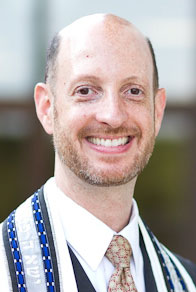 Our community was deeply saddened by the death of Rabbi Marcus L. Burstein, z"tl, on Wednesday, October 12, 2016. Rabbi Burstein began serving Jewish Family Congregation in July 2013 and had served with Rabbi Reiner as rabbinical co-leader of Congregation Shir Shalom.
Compassionate, innovative and outgoing, Rabbi Burstein had a gift for making people feel good about themselves, helping everyone relate to our Jewish heritage in a modern way, and encouraging participation within our Shir Shalom community. His warm approach resonated with our children and he was always a welcome presence in our Early Childhood Center and Religious School.
Rabbi Burstein grew up in Westfield, NJ, and graduated with honors from Rutgers College. He entered Hebrew Union College-Jewish Institute of Religion (HUC-JIR), where he attended the Jerusalem and New York campuses and was ordained in 1999. His rabbinical thesis was on Ladino songs, which enabled him to combine his love of Judaism, music, and his Spanish-speaking abilities. He also earned a Doctor of Ministry degree in Pastoral Counseling from HUC-JIR in 2004.
Rabbi Burstein is survived by his parents and his husband Eric, their three children, and his two brothers and a sister.
Contributions to Congregation Shir Shalom in Rabbi Burstein's memory will be used to create a Scholar-In-Residence Fund and support one of his passions, adult education.
Donations honoring Rabbi Burstein's memory can also be made to:
Hebrew Union College – Jewish Institute of Religion (click here)
or by check:
Rabbi Marcus L. Burstein L'Dor V'Dor Fund
HUC-JIR, Brookdale Center
One West Fourth Street
New York, NY 10012
Religious Action Center of Reform Judaism (click here)
(Include "Rabbi Marcus Burstein" in the "In memory of" section)
or by check:
Religious Action Center of Reform Judaism
2027 Massachusetts Ave NW
Washington, D.C. 20036