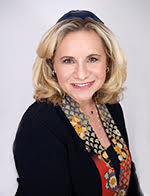 A fourth generation cantor, Cantor Katchko-Gray has served our congregation since l999. She previously served Congregation Beth El in Norwalk and The Conservative Synagogue of Westport – a milestone achievement for a woman cantor.
"Cantor Debbie" is enthusiastic and passionate about integrating music in all aspects of Jewish life and culture. She is most proud of her role in Shir Shalom's musical activities: Adult Choir, Talented Teens, Music Shabbat Series, Ruach Shabbat and the many professional musical friendships that enhance the spiritual life of our congregation.
A graduate of Boston University School of Education, her studies with Prof. Elie Wiesel were most influential. Elie Wiesel said of her, "Listen to her. Debbie will enable you to hear and feel the exquisite beauty of Jewish melodies that must never be forgotten."
Her recordings include A Musical Reunion: Kalisz to California, Hanukkah Songs of Light and Hope, A Suite Shabbat (with the Tourmaline String Quartet), Shabbat Jam (with our Talented Teens), Kindersongs, Jewish Soul, Passover Seder Songs, Katchko: Three Generatons of Cantorial Art, and A Sacred Spirit. Her songbook, Katchko, is used at the Friedman School of Sacred Music at Hebrew Union College-Jewish Institute of Religion.
Deborah is an active member of The Women Cantors' Network, Cantors Assembly and American Conference of Cantors, Ridgefield Clergy Association, Jewish Women International – Clergy Task Force and a co-founder of Kesher-Pomegranate Guild of Judaic Needlework. She enjoys teaching the art of Jewish Huck embroidery, using Swedish weaving techniques to create heirloom tallitot.
Deborah has four sons, has raised six sons and welcomed one grandson with her husband, Dr. F. Scott Gray.
To contact Cantor Katcho-Gray, email CantorDebbie@OurShirShalom.org