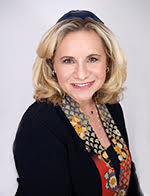 Cantor Deborah Katchko-Gray is a fourth-generation cantor and the second to serve a Conservative congregation. She is the Founder (1982) and Past President of the Women Cantors' Network. Deborah has served Congregation Shir Shalom of Westchester and Fairfield Counties since l999 and has been honored by the congregation for her 10th, 13th, and 18th years.
In 2009 She was chosen as one of the Jewish Ledger's Movers and Shakers in 2009.
She is the first recipient of the Debbie Friedman Miriam Award given by Miriam's Table Women's Seder and Chasing Light Speakers. She is currently organizing the first Women of the Wall Choir supported by the Women Cantors' Network.
Her ten recordings and many with the Cantors Assembly Spirit Series are heard on Jewish radio stations and available at cdbaby, oysongs and iTunes. She has published two books; Katchko-Three Generations of Cantorial Art and Prayerful Creations: Creating an heirloom tallit or challah cover using Swedish Weaving and Jewish design.
Her story is included in "The Invisible Thread – A Portrait of American Jewish Women." Her archives are preserved with the American Jewish Archives and the National Museum of American Jewish History where two items are on permanent display. Her papers and memorabilia from her years of study with Prof. Elie Wiesel are housed in the Mugar Library at Boston University with the Elie Wiesel Archives. She is currently writing a book about her studies with him.
NPR 's program The Story for Yom Hashoah in 2009, recorded her reunion with her Holocaust cantorial cousin, "Finding Family Through Song." The Jewish Broadcasting Service recorded and archived her lecture, Elie Wiesel Story and Song in 2019.
Deborah is an active writer with The Times of Israel Blog. She is a founding member of Compassionate Ridgefield and is the treasurer for the Cantors Assembly CT region. Her workshop on Lessons, Stories and Songs from Elie Wiesel is listed with the State of CT Dept of Education, Resources for teaching about the Holocaust. She is the mother of a growing family, four sons, two stepsons, four daughters in laws, and four adorable grandchildren. She is married to Dr. F. Scott Gray of Somers Orthopedics in Danbury, CT. They live quarter-time in Lewes, DE.
To contact Cantor Katcho-Gray, email CantorDebbie@OurShirShalom.org.
Also, visit her at  www.cantordebbie.com