January 30, 2018 by Deborah Katchko Gray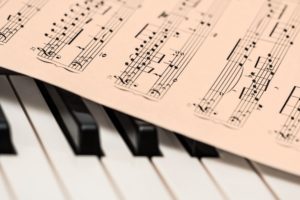 When I founded the Women Cantors' Network in 1982, there were very few women who composed cantorial music. In fact, music often had to be adjusted for the voice of a woman cantor, sometimes even rewritten. But today, there are dozens of incredible women cantors who are composing for the synagogue. In the era of #MeToo, it is more important than ever that congregations #HearOurVoice and create spiritually safe places that respect women and use our work.
If you or your congregation is looking for more songs composed by women to sing, here is a list of amazing cantors whose work I regularly use in my own congregation. While it was difficult to narrow this down to seven (and my choices of course were purely subjective), I chose based off of melodies that really stick to your kishkes and bring the text to life. I also focused on cantors who have been composing for years; whose music is sung regularly in Reform, Renewal, Conservative, and Reconstructionist Congregations. But even as you read this, young composers are writing and their compositions will become the new "traditional" music in the future. There are dozens more composers whose work is worthy of attention, but hopefully this list can get you started.
Cantor Benjie Ellen Schiller. As a professor of Cantorial Arts at Hebrew Union College (HUC) NYC, Benjie has inspired a new generation of cantors and exposed them to her passion for meaningful Jewish music. Choirs all over the world sing her "Halleluhu Psalm 150" and her new "Oseh Shalom" has been performed with orchestra and world class singers. Personally, I sing "May You Live to See Your World Fulfilled" at every B'nai Mitzvah and "Zeh Dodi" at every wedding. Benjie is also publishing a songbook in the near future—it belongs in every cantor's library! Her CD, A World Fulfilled, is magnificent.
Cantor Natasha Hirschhorn. Natasha is the Music Director of Congregation Anshe Chesed in New York City and is part of the faculty both of HUC and the Jewish Theological Seminary. Her music is haunting and unusual. My congregation's choir sings her rendition of "Oseh Shalom" during the High Holidays, and I believe that her "Yesh Adonai Bamakom Hazeh" ("G-d was in this place and I did not know") has the power to cause a spiritual awakening every time it is sung.
Cantor Robbi Sherwin. Robbi is a force of nature—a unique mandolin playing cantor/rabbi who plays with the popular band, Sababa, and has been a leader in the Women Cantors' Network. She and Marci Vitikus (also a member of the Women Cantors' Network) co-wrote "Atah Kadosh," which my congregation uses to complete the chanting aloud of the Amidah each week. Her "Maariv Aravim" and "Love Adonai Your G-d" are also both notable.
Cantor Rachelle Nelson. Rachelle is a composer of Jewish music from South Florida. She has created several songbooks and CDs and also runs In the Spirit Music Foundation, which encourages writing new inspirational Jewish liturgical music. She graduated in 1984 from HUC's School of Sacred Music (now the Debbie Friedman School of Sacred Music). Her "Modim Anachnu Lach" is a Hebrew-English prayer of giving thanks that I use at my interfaith Thanksgiving services.
Beth Styles. Beth is a producer/composer/musician/vocalist and a popular Artist in Residence at synagogues. As a composer, her music is fresh and unusual, a mix of Jewish gospel flavored with deeply spiritual and lush melodies that stick to your kishkes. I met Beth in the 1980s when she produced my first CD, Jewish Soul. (She also produced for Diana Ross.) Years later, she is a frequent musical guest in my synagogue creating a "Shabbat Experience" that moves and inspires. I could list a dozen of her songs, but "Grateful," "Light These Lights," "Mi Sheberach," "Shehecheyanu," "Hashkivenu," "Adonai S'fatai," and "Shabbat Shalom" have now become "traditional" songs in my synagogue.
Cantor Lisa Levine. Lisa is a worship artist, songwriter, recording artist, and yoga prayer facilitator, who has been writing music for over 30 years. She created "Yoga Shalom," combining Yoga and Jewish prayerful movement and worship. Her songbooks and CDs are numerous and well received, though I love her "Mi Sheberach" and "V'shamru" in particular. These tunes are essential parts of my Shabbat services, bringing an easy singing and soulful quality to song and worship.
Ellen Allard. Ellen is arguably the best known children's composer and teacher around today. Her captivating energy and catchy tunes are classics in the preschool communities. "Holy Holiness" is one of those rare songs that can be perfect for three year olds, teenagers leading a service and/or any intergenerational group praying. The piece's simple repetition of beautiful lyrics, like the phrase, "All around everywhere, holy holiness," is transformative. "I feel like an angel," said one young boy after singing this work. That's what I hope to create in a service—a sense of holy transcendence, a feeling that is uplifting and peaceful. "Holy Holiness" does that every time!
Want more music written by women? The Women Cantors' Network is soon publishing a new songbook that will shed light on many known and unknown composers.
This blogpost was initially published by Live from the Lilith Blog on January 30, 20178 by Deborah Katchko Gray