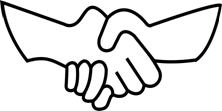 Happy New Year Everyone!
If you would like to start off the New Year by reaching out to others in need, here's your chance.  We really need your help!   
Please join our energetic, dedicated teams for one or more of the below-listed sessions (the more the better of course!).  A couple of hours of your time can truly make a difference to others…and be enjoyable too!   No experience is necessary of course.
Daily Bread Food Pantry: man the Pantry as needy clients shop.  Shir Shalom volunteers are responsible for the dates below:
Monday, September 24, 9:30 a.m. – 11: 45 a.m. (PRIORITY!)
Monday, October 29th, 9:30 a.m. – 11:45 a.m.
Friday, November 30th, 9:30 a.m. – 11:45 a.m.
Also, during the entire month of October, the Pantry we will need many more hands on deck on Monday and Friday mornings from 9:30 a.m. – 11:45 a.m. to help clients fill out brief/simple annual registration forms and to give out tickets for our  Thanksgiving food distribution event.   Please let us know if/when you can help.  The Pantry would be so grateful to you! 
Dorothy Day Soup Kitchen: prep and serve a meal to hungry clientswith Shir Shalom volunteers and our partner church teams.
Sunday, October 7th, 2018, 1:15 – 5:00 pm
Sunday, November 4th, 2018, 1:15 – 5:00 pm
Sunday, December 2nd, 2018, 1:15 – 5:00 pm
Reach out to me at SocialAction@OurShirShalom.org. I'd be happy to provide more information/answer any questions!
Thanks so much Everyone!
All my best,
Debbie Landzberg
Social Action Committee Co-Chairperson